Annual Three-Day Sidok Raksha Thötreng Puja at Ka-Nying Shedrub Ling Monastery
January 18
–
January 20
UTC+0
Sidok Raksha Thötreng is a wrathful manifestation of Guru Rinpoche, Padmasambhava. Chokyi Nyima Rinpoche, Phakchok Rinpoche and Tulku Urgyen Yangsi will lead the entire community in this practice which dispels all negativity and obstacles before Losar, the Tibetan New Year. The ceremony also invites all conducive circumstances, contributing to world peace and harmony.
Visitors are welcome, either as participants or observers, into the main temple for the morning and afternoon sessions. One may stay for as long as one wishes while the puja is being performed during any of these sessions.
On the final afternoon, the entire assembly of monastics and high lamas will perform the final ceremony. They begin by ritually circumambulating the monastery. After completing the circuit, the lamas recite special prayers and will set ablaze a wrathful effigy. This effigy embodies all negative energy and obstacles. The burning of the effigy is a time when all the participants make aspirations that all the obstacles for sentient beings be removed just as the effigy disappears in the flames. In addition, we make prayers for all beings to experience happiness, and to attain complete enlightenment. This ceremony is open to all. It is customary to offer a khatak (white scarf) and a small donation to the ritual master to share in the merit of this practice.
Extracted from the Tukdrub Barche Kunsel cycle of the New Revealed Treasures of Chokgyur Lingpa (Chokling Tersar), the Raksha Thötreng puja accomplishes the wrathful manifestation of Guru Rinpoche, Padmasambhava, who was instrumental in transmitting and establishing Vajrayana Buddhism in Tibet. When Guru Rinpoche left Tibet, he skillfully manifested as the king of the rakshasa or yaksha cannibals (sri) in the southwestern continent called Ngayab Ling in Tibetan. He did this in order to prevent a prophecy that the rakshasa would invade the southern continent of India, Nepal and Tibet in the human world and cause great destruction. Thus, he gained the name Raksha Thötreng, the 11th of the Twelve Manifestations of Guru Rinpoche described in the Tukdrub Barche Kunsel.
As the Barche Lamsel (Dispelling Obstacles on the Path) supplication prayer states about Raksha Thötreng:
Then you leave, and for the land of Orgyen,
Where now you subjugate the rakshasa demons.
Great wonder – surpassing any human being,
Great marvel – in your phenomenal enlightened actions,
Great might – with all your miraculous powers.
With your compassion, inspire us with your blessing!
With your love, guide us and others along the path!
With your realization, grant us siddhis!
With your power, dispel the obstacles facing us all!
Outer obstacles – dispel them externally,
Inner obstacles – dispel them internally,
Secret obstacles – dispel them into space!
In devotion, I pay homage and take refuge in you!

Om Ah Hung Bendza Guru Pema Siddhi Hung
According to Phakchok Rinpoche, the benefit of practicing the Raksha Thötreng repelling practice is to overcome conditions that cause us to die before our time, which prevent us from being able to benefit beings to our utmost capacity, and achieve liberation. This practice removes death-related obstacles, as Guru Rinpoche himself overcame the obstacle of death and still remains subduing the cannibals in the southwestern continent out of his compassion, preventing them from causing more negative deeds which would continue their lower rebirths.
Raksha Thötreng is described in the Great Accomplishment of the Guru's Heart Practice, Dispeller of All Obstacles (Tukdrub Barche Kunsel Drupchen) text as being,
Dark brown and magnificent,
Holding vajra and blood-filled skull, he wears a tiger skin skirt.
Adorned with bone ornaments, and a bandoleer of skulls,
Blazing Blue Light embraces him holding a knife and a skull.
With his hair streaming upwards, adorned with glowing dry skulls,
He is vividly present as the form that subjugates samaya corrupters.
You can read more about Raksha Thötreng in Samye Institute's series on the 12 Manifestations of Guru Rinpoche.
Related Events
December 14

–

December 24

February 17, 2024

–

February 25, 2024
Event Navigation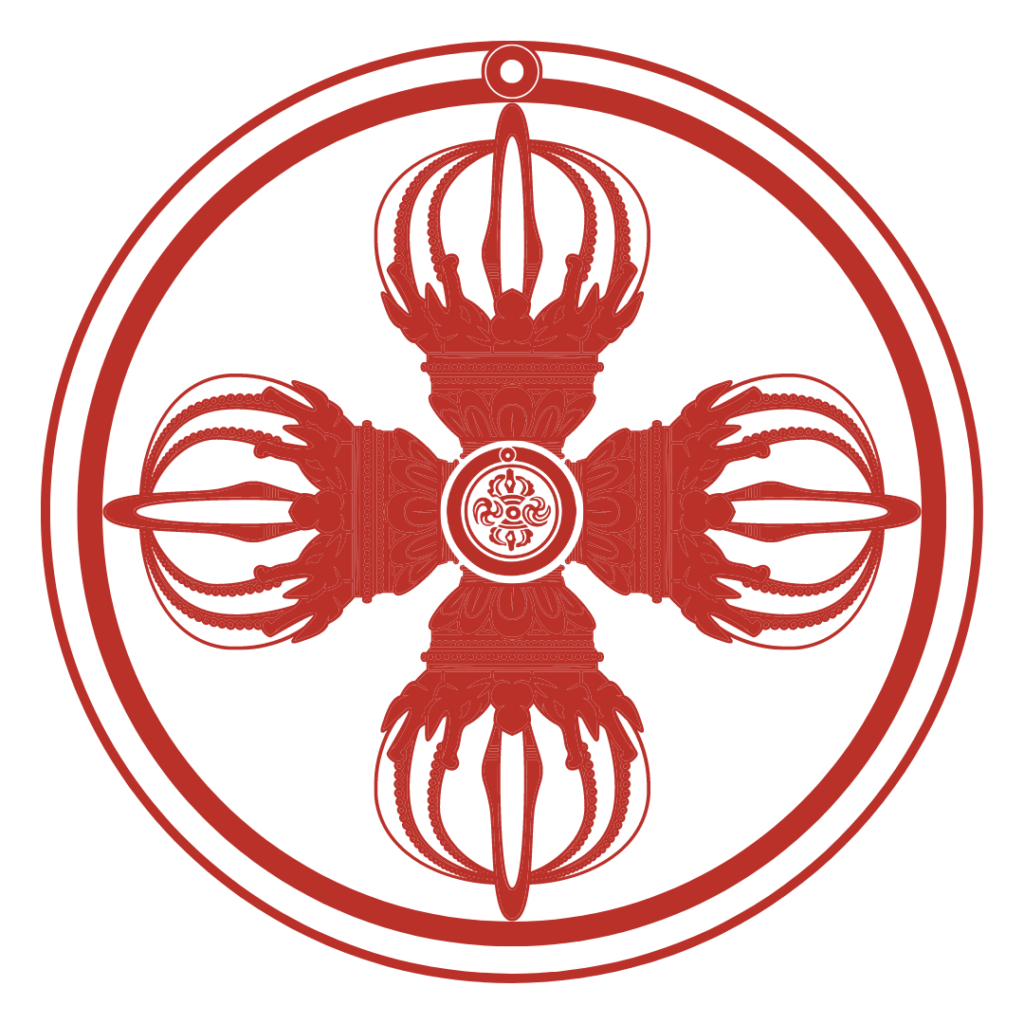 Join now and receive:
Monthly teachings from Phakchok Rinpoche and monastic instructors
Detailed instruction in Vajrayana practices
Practice companions for core Chokling Tersar practices
New content added monthly
Scholarships available
Samye is a place where students from all corners of the globe explore how to work with their minds in order to lead meaningful lives. Drawing from authentic Buddhist wisdom traditions, our online platform offers live teachings, structured courses, interactive forums, and community for the digital Dharma sangha. Samye Institute aims to be to the digital world what Nalanda was to India and what Samye was to Tibet.