Dear friends near and far
I am writing to you on this Guru Rinpoche Day from Nepal where I am overlooking the blessed Buddha's stupa at Boudhanath. Due to some personal things, I have cancelled a few of my planned trips and am unexpectedly back here in Nepal. Thinking today of myself, having been wandering around from country to country for the last two months, and inspired by a teaching by Patrul Rinpoche that I am reading I would like to share with you one of the most important points for the path―the importance of aspiration.
We may be very lazy, busy, and lost in our lives, but nevertheless we should keep our motivation, aspiration, and interest in enlightenment and keep on reminding ourselves to aspire that everything we do may not go astray from enlightenment, but lead towards enlightenment. Many people act with a different motivation and with different reasons, not with enlightenment in mind, but in terms of the path the most important point is mind.
This being so, if your aspiration, intention, and motivation go astray from enlightenment then you have really gone astray from the dharma. On the other hand, if you can maintain the aspiration for enlightenment day to day and do everything in your daily life with this as your motivation, then although you may be astray from the application of the dharma you are not completely astray from the path.
One of the sutras tells how Buddha Shakyamuni counseled a king saying:
Oh King, whether you are walking, sitting, talking, whatever you may do, never forget the aspiration for enlightenment. When you have this mind, you will never go astray from the path.
With constant aspirations for you all.
Sarva Mangalam,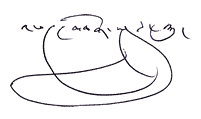 Phakchok Rinpoche