Dear friends near and far
I hope you are all well. I am writing to you today (one day late) from Hong Kong where I have been teaching and holding several pujas. All of the programmes have gone very well. In particular we completed 100,000 Sampa Lhundrub feast offerings which was really excellent, and throughout I have been keeping all of you in my thoughts and prayers.
It is really important that we practice the buddhadharma, and to do this we need a certain motivation: our motivation should be to attain enlightenment for the benefit of all sentient beings. But for many of us, the strength of this motivation is not enough. What we need to do then is remember the immediate benefits of the dharma, the effects we experience directly in our own lives. For example, how the dharma helps reduce our negative emotions; how through meditation we can increase our compassion and become more good-hearted so that even if others do us harm we don't react with anger, but respond with patience and compassion.
A lot of people these days though don't have enough time for the dharma. But even so, you can still make use of the little bit of time you do have here and there to apply the dharma. Here and there, remember the Buddha's teaching, apply it in your life, apply meditation in the short moments you have free throughout the day. This is so extremely important. If we fail to do this, and let our life slip by occupied solely with work, work, and more work life will have become quite meaningless and empty. Our lives will pass by and before we know it life will be over and we will have accomplished nothing truly meaningful. Time is ticking by, day by day, so we must practice the dharma now. But to do this we need discipline; discipline to make time and apply the dharma in our lives. This is something we need to do for ourselves; no one else can do it for us. The dharma is so important. Please keep this in mind.
In a few days, when I am back in Nepal I will send another short message via video. Until then, many prayers and aspirations that we can all foster the discipline to make our lives meaningful.
Sarva Mangalam,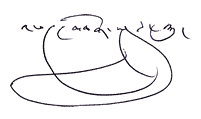 Phakchok Rinpoche