Dear friends near and far
I hope you have all been happy and healthy. I have been well and busy hopping from one city to another on the eastern coast of United States. I started out this morning at the Garrison Institute and then to Bedford to do a puja at a close friend's place and then to Irvington for an afternoon teaching followed by dinner with few friends and now finally in room #232 of some hotel an hour away from NYC. Yes, I am exhausted and therefore will keep todays GRD message short, my apologies.
So, whether in your mundane life or your spiritual, always remind your self of the three qualities:
1. Intelligence and wisdom in your brain
Knowing your own negative emotions, knowing the dharma, and knowing how to practice the dharma.
2. Compassion in your heart
Compassion without bias, compassion without judgement, and compassion without ego.
3. Dignity and confidence in your gut
Knowing that you can succeed in your practice, seeing your improvement, and gradually gaining dignity in your practice without ego.
See it, experience it, and investigate whether having these three qualities in your life impact your life positively or not!
Sarva Mangalam,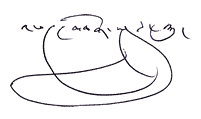 Phakchok Rinpoche